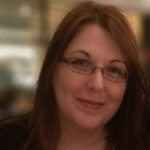 My love of cake started at a very early age.  My Mom used to make my brother and I wonderfully fun and creative birthday cakes.   As soon as I was old enough I was cooking by her side, learning all I could from her.  I secretly dreamed of one day being the next Delia Smith!  
My career initially took me in an entirely different direction, but in 2000 my husband & I relocated from England to New York.  It was then that I decided to pursue my dream of becoming a chef and enroll in Culinary school.   I graduated from the Institute of Culinary Education in 2002.  I then spent time working in restaurants, event spaces and print magazines.  
In 2008 I finally found my way back to cake, with the creation of my twins' first birthday cakes.  I was instantly hooked!  Creating beautiful cakes allows me to utilize my culinary skills, nurture my artistic side and bring joy to people.  I had found my passion and there was no turning back!  I have been specializing in custom cakes ever since, spending many hours perfecting my recipes and flavour combinations and continually striving to further hone my skills.  My philosophy is that although cakes can be works of art, they should taste just as good as they look, or what's the point… It is cake afterall!     
Please take a look through my portfolio and get in touch via the enquiries page.